PAST EVENTS
NOVEMBER 17, 2023: New York presentation of international version of the film THE 14 YEARS OF TYABALA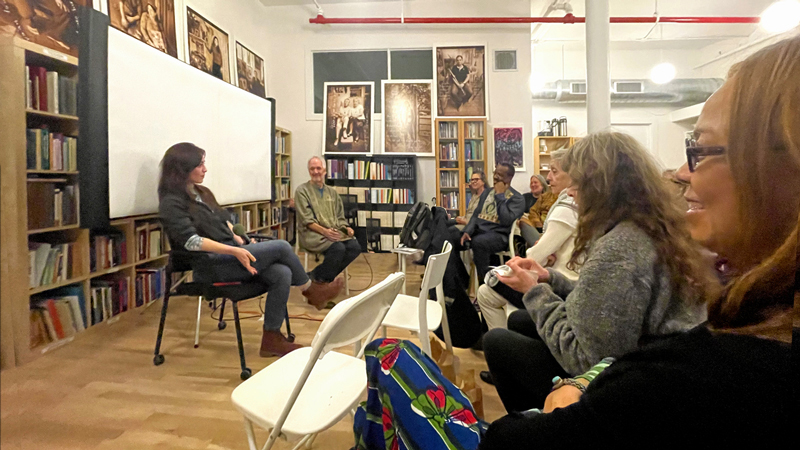 We hosted the US premiere of The 14 Years of Tyabala, our new documentary, and many people came to see it. The film was very well received and its presentation was followed by a lively discussion where a few excellent suggestions were made to improve it.
NOVEMBER 13, 2023: US Arts Envoy, Jazzman Brent Birckhead to visit l'école fula flute Arts Envoy Birckhead Visit to Centre Tyabala, Sonfonia
A visit by a professional jazz band from the US to a school of music for underprivileged youth in Guinea serves as a powerful and inspiring cultural exchange. It not only provides these young musicians with a unique opportunity to learn from experienced professionals but also highlights the universal language of music. Through this interaction, the band can showcase the transformative potential of music, moving and encouraging the youth to pursue their musical aspirations despite limited resources. This visit fosters a sense of hope, connection, and collaboration, emphasizing the positive impact of music on the lives of individuals, transcending boundaries, and creating a lasting memory for the students. OCTOBER 2023: The Franco-Guinean Cultural Center of Conakry presents 3 events celebrating the realizations of l'ecole fula flute DAY 1: FILM PRESENTATION
ECOLE FULA FLUTE
(2019), a short film by American director Rich McKeown that was selected and awarded at several film festivals around the world (English with French subtitles)
LES 14 ANS DU CENTRE TYABALA
PREMIERE of medium-length film by Becky Lamming that provides a retrospective of our Project from inception
JOUR 2: GRAND SPECTACLE
| | |
| --- | --- |
| | Great show directed by Véronique Lamah and Bouba Mbeng featuring songs and performances by the percussion, kora, and flute ensembles, staged with costumes and choreography. A spectacular showcase of the abilities of our students accompanied by graduates and teachers. |
JOUR 3: CONTE EN MUSIQUE

QUI SUIS-JE?
Written and performed by ecole fula flute graduate Fatoumata Soumah for a young audience and accompanied by students of l'ecole fula flute.

These events represent a significant recognition by the Conakry cultural community of our years of contributions towards the development of young artists.
NOVEMBER 2022:series of online events
MFM Zoom Talk

On November 18, 2022, Sylvain played with, and was interviewed by writer-guitarist Banning Eyre.

Deep discussion

On November 19, 2022, we reviewed the 10 years of our project with our enlightened guests Banning Eyre, Howard Mandel, Dave Soldier, Nili Belkind, Sohrab Saadat Ladjevardi, and Thomas Vahle.

Discussion in French

On November 20, 2022, we reviewed the 10 years of our project with our enlightened guests François Dompierre, Seydou Tanly, and Thomas Vahle.

Online Performance

On November 26, our students and teacher presented a beautiful play titled "The Reign of the Tyrannical King" followed by a concert.