THE STORY
L'école fula flute is an initiative of musician Sylvain Leroux that began when he invented the chromatic tambin by adding three more finger holes to the existing three-hole tambin (Fula flute) rendering the instrument capable of playing classical, jazz, or any style of music beyond the beautiful but limited traditional scale. This gave him the idea that this new instrument could be used as a culturally appropriate vessel to teach the fundamentals of music theory to children in Guinea.
In Conakry in early 2013, looking to test his ideas, he was recommended to the Centre Tyabala Theatre de Guinée, an alternative arts-in-education program that had been in operation since 2009 giving classes in theater and music along with a fundamental elementary curriculum. They welcomed Sylvain and for three weeks he began to apply his ideas. The kids immediately fell in love with the tambin, the sound of which has deep resonance among Guineans, and, despite the early headaches that come with early flute playing, they eagerly pushed forward.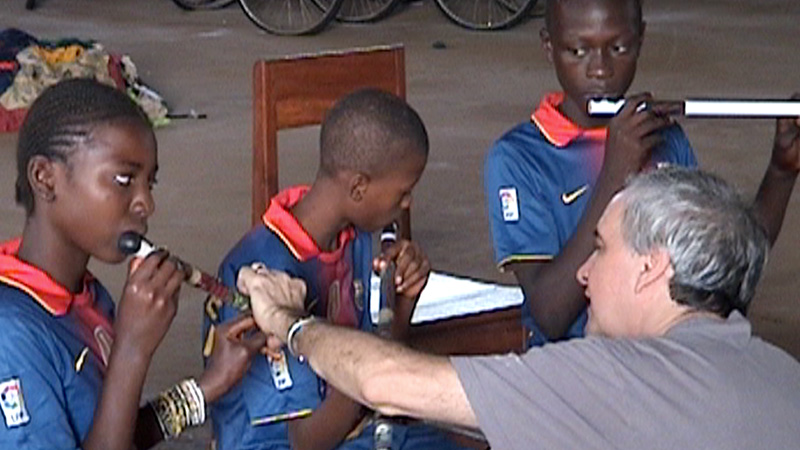 That result gave Sylvain motivation to raise the funds needed in an ultimately successful Kickstarter project and in 2014, he spent four months working with the students at the Centre. The kids made tremendous progress on the instrument and an appreciable one in music literacy. This culminated with the recording of an album/CD, "Les Enfants de Tyabala" on Mulatta Records, released later that year and a one-hour film with the same title.
At the film premiere, Gary Zaremba, a generous audience member was moved to offer financial support for a traditional flute teacher to continue the kid's instruction while Sylvain was away. Sylvain then recruited his old teacher Mamadi Mansaré, retired veteran of the world-famous Ballets Africains and one of the most well-known and well-respected flutists in Guinea. He began teaching in 2015 and found that the students were enthusiastic about learning everything he had to give, this made him very happy and, after many years of witnessing the flute tradition dwindle, gave him hope for the future. Mamadi has ever since continued to teach weekly.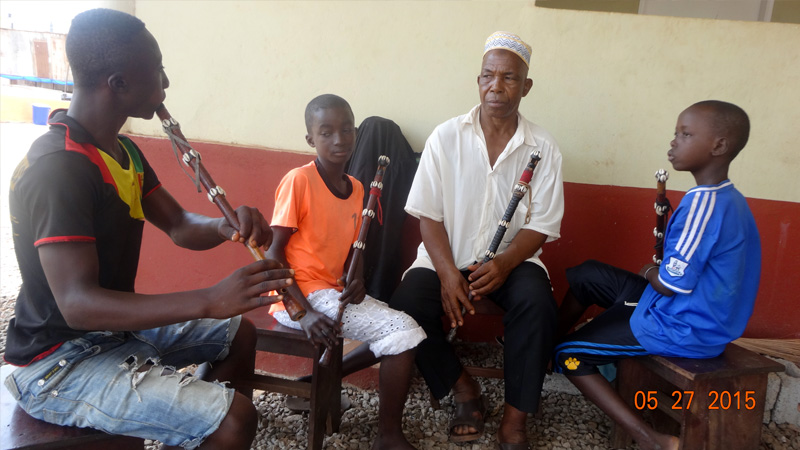 In 2016, another teacher, Bouba Mbeng, joined the school, a great percussionist, singer and ngoni player with deep knowledge of traditional music and a gentle and generous soul who assiduously developed a bond of trust with the kids teaching them songs and arrangements which little-by-little developed into a deep repertoire.
Meanwhile, the Centre Tyabala had been operating in a giant industrial hangar that had been repurposed as a State community facility. They shared this space with other youth groups, dance companies, martial-arts classes, printing shop, storage, parking lot, etc. However, in the summer of 2016 the State in its wisdom decided to transform it into a sewing training facility and with a week's notice, everyone was evicted. Our school found itself working outdoors and many classes fell by the wayside although the flute and percussion classes continued despite the heavy monsoon rains.
Back in the US and appalled by this situation, Sylvain conducted a fund-raising campaign that realized nearly $7000. Thanks to that the program's activities were moved to a 4-room house in an enclosed courtyard at the end of a quiet street nearby.
Feeling secure and in control, a stronger emphasis was put on "alphabetization" or the elementary education: reading, writing, arithmetic, social sciences, civics, etc. The health of students is of a primary concern, and they are fed daily, classes take place from 8:20 am until 5:30 pm with breaks. Young students were recruited and the faculty grew with the addition of music theory, kora, and Fula flute teachers.
The students are often called upon to perform concerts and plays for the community as the original vocation of the Centre Tyabala is oriented to the Theater Arts but the addition of the Fula flute to their repertoire has given them a special and much appreciated character.
In 2019, we received many interesting visitors: great artists appearing at the International Jazz Festival (FIZZ); Haitian diva Emeline Michel, Malian luminary Cheick Titian Seck; Martinican percussionist Boris Reine-Adelaide, and American Fula flute player Thomas Vahle—who spend a few days teaching—all of whom were very enthusiastic about what they saw and experienced at our Center. Also, American filmmaker Rich McKeown, came on day and filmed classes, and interviews and with these materials and historical footage from the ECOLE FULA FLUTE project he assembled a short film aptly titled "L'ECOLE FULA FLUTE," that was thereafter selected in many film festivals, including Montreal's "Festival Vues d'Afrique" .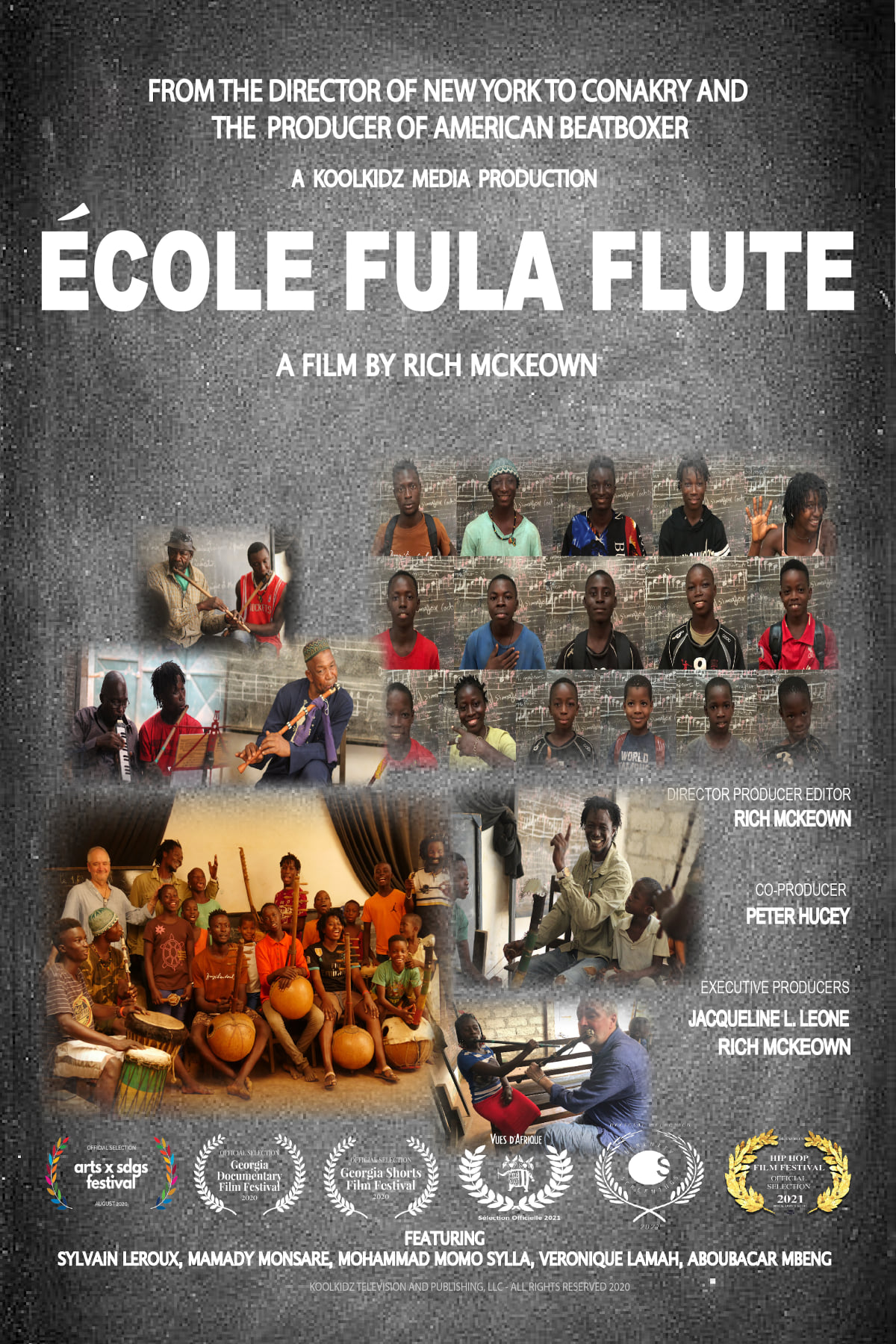 In 2019 a new recording of our students was released called "TYABALA" (Mulatta Records 042) which features the results of the wonderful work taking place at l'école fula flute. It was very well received.
2020 and 2021 were particularly challenging: there was COVID of course, which, although did not affect Guinea as badly as it did the rest of the world, social distancing measures put a great strain on people's livelihood and especially, due to the ban on live performances and gatherings, on musicians.
In March 2021 we optimistically attempted to upgrade our housing situation which was becoming untenable and migrated our activities to a new facility further out of town into a nice, big, and clean new house sporting beautiful tile floors, an enclosed courtyard, and a big porch. However, in our enthusiasm and inexperience we failed to take some fundamentals into account and when the inevitable yearly rains came, we were repeatedly flooded. The water damaged a lot of equipment, costumes, clothes, instruments, books, supplies, etc. It is now obvious that we should have heeded the saying: "if it's too good to be true it probably is."
Therefore, we relocated again even further out of town, in a basic but secure and quiet compound with roomy house and outdoor area enclosed behind a wall and set in the more sparsely populated neighborhood of Sonfonia. However, due to the distance and the cost of transportation, we have now effectively become a boarding school with our students spending most of their time at the school and a few days a month home.
Only a short while after we were able to resume our activities, a military coup happened, and we had to put things on hold again. However, the interruption was short-lived, and our activities resumed and we are now operating normally; all our teachers are back on the job and faithfully instructing full classes that include many new young students.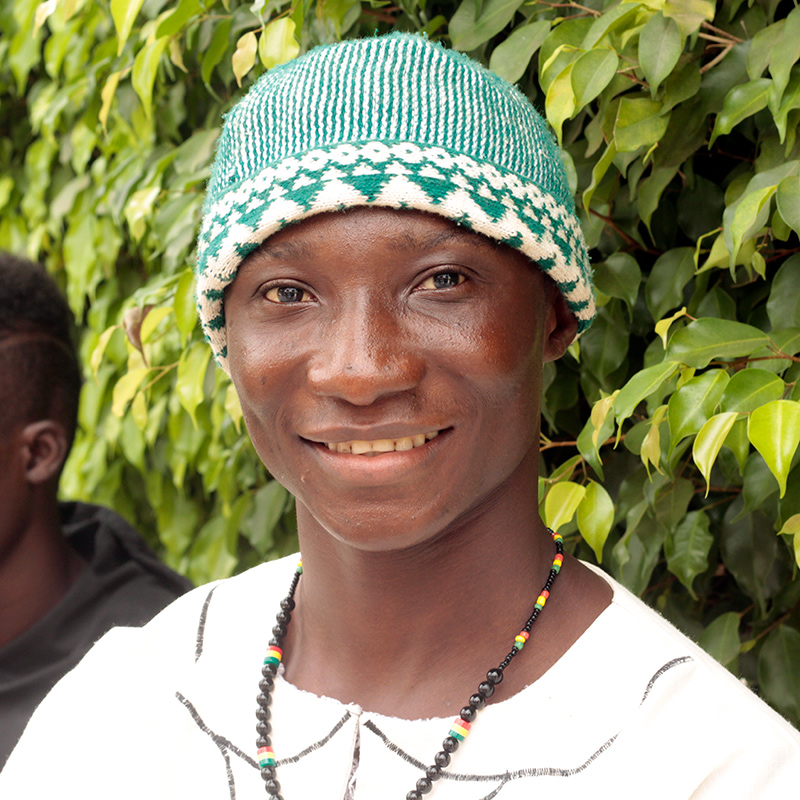 In 2020 and 2021, several of our senior students begun to find employment with professional arts companies and NGOs and among them, Abdoulaye Camara, was recruited as flutist-soloist by the Ballets Africains—the prestigious national company that in the late nineteen-fifties inspired Miles Davis and a generation of Black Americans—succeeding our own Dean-of-the-flute, Mamady Mansaré in the position. This is a tremendous honor for our school and a wonderful reward and vindication of our vision and your generosity, dear supporters.
There are three elements that hold our ECOLE FULA FLUTE initiative together: the involvement of the people who make this happen daily (the plant), the acceptance of the community on the ground in Guinea (the soil) and the generosity of supporters around the world (the water) and, as long all three of these are present, l'ECOLE FULA FLUTE will thrive. So, we say: "We are the plant, Guinea is the soil and YOU are the water."
For further information, please visit the follwing links: