QROMATICA
Sylvain Leroux
The "qromatica" is a fully functional chromatic version of the Fula flute. In this record, and in his warm and intimate style, Sylvain Leroux takes the new instrument on a tour of possibilities from Africa to Monk, through India and Bach.
TYABALA
Sylvain Leroux
& l'école fula flute
The students of l'école fula flute return four years later seasoned and mature, masters of their craft performing music composed and arranged by their teachers. Recorded on site at the Centre Tyabala in Conakry.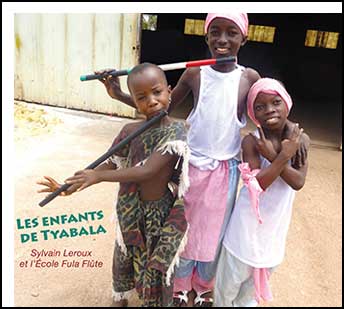 Les Enfants de Tyabala
Sylvain Leroux
& l'école fula flute
Field recordings by a class of Guinean children, the result of a four-month pilot project to teach music literacy through the medium of the chromatic tambin—a variant of the Fula flute that can play a complete Western chromatic scale.
Fula Flute III
Bailo Bah & Sylvain Leroux
Fula Flute returns to the source while continuing to innovate with Bailo's vocals and performance by Sylvain on the chromatic tambin, his patented invention that, as opposed to the traditional tambin which is limited to only one tonality, can play in all keys